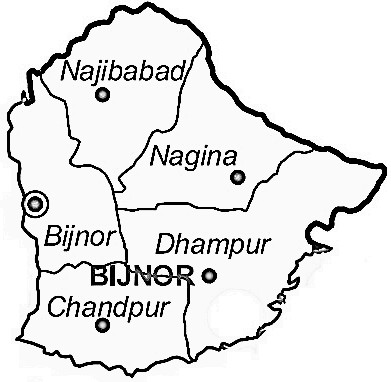 Nagina is the word for "Jewel", Nagina was named by Syed's who received this place as jagir by the Mughals. Syed Ghalib Ali got this place as Jagir and he founded the city by building Nagina Mahal or Bara Mahal. The Ain-e-Akbari mentions the city as the headquarter of Nagina mahal[(Bara Mahal)currently located at Mohalla-SyedWara Nagina] or pargana. During British period, Nagina remained the headquarter of Nagina Tahsil, Bijnor district, in the United Province; and from 1817–1824, it was the headquarter of newly formed Northern Moradabad district. In 1901, the Nagina Tehsil had 464 villages and two towns.
Rise of Rohilla power in the area was marked by an 18th century fort, which was later used as tahsili or tehsil offices. In 1805, the city was sacked by the Pashtuns under Muhammad Amir Khan.
As a part of the Indian Rebellion of 1857, Nagina was the site of battle between the Nawab of Najibabad and the British, ending in the defeat of the Nawab on April 21, 1858, following which British established their authority in Bijnor, and later, in 1886, Nagina became a municipality.
The population of Nagina has been a good mix of Hindus and Muslims who have been living mostly in peace and harmony with good relations.
A famous poet Khurrum Shahzad Noor was born here.
Nagina Lok Sabha constituency is one of the 80 Lok Sabha (parliamentary) constituencies in Uttar Pradesh state in northern India. This constituency came into existence in 2008, as a part of delimitation of parliamentary constituencies based on the recommendations of the Delimitation Commission of India constituted in 2002.Nagina, located to the east of Bijnor, is about 7 km from Puraini and 17 km from Dhampur. Nagina has Nagina Railway Station as its main station. Nearest airport is Jolly Grant Airport, Dehradun.
Nagina is famous for its wooden handicrafts, especially ebony work.That is why it is also known as 'Wood Craft City'. A neighborhood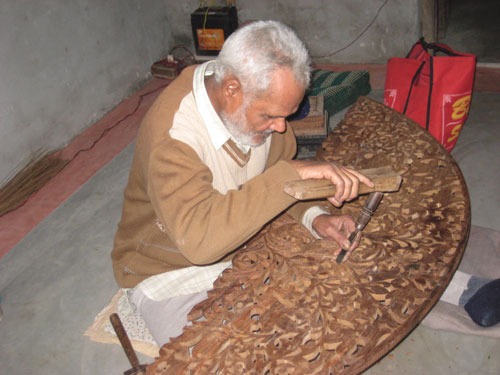 called Luhari Sarai is famous for its wooden items and world-known artisans.The creations of Sheesham & Rose wood includes Wooden Boxes, Jewelry Boxes, Tea Boxes, Coffee Boxes, Incense Boxes, Game Boxes, Candle Holders, Paper Rack, Pen Holders, Paper Cutter, Coasters Sets, Ashtrays, Wooden Jewelry, Smoking Pipes, Door Handles, Walking Sticks, Nautical tables and other such items which is very useful for our life.
Source: Wikipedia